Since June 2008, Alamo Area Search and Rescue has responded to 50 search missions in 18 counties in Texas.  We have provided a variety of resources to over 30 different public safety agencies.  All of our responders (human and canine) are certified by nationally recognized agencies prior to deployment.  Training with AASAR doesn't end at certification.  Our search specialists spend an average of 15 hours per week training.  Our members are committed to constantly continuing their education to improve their skills.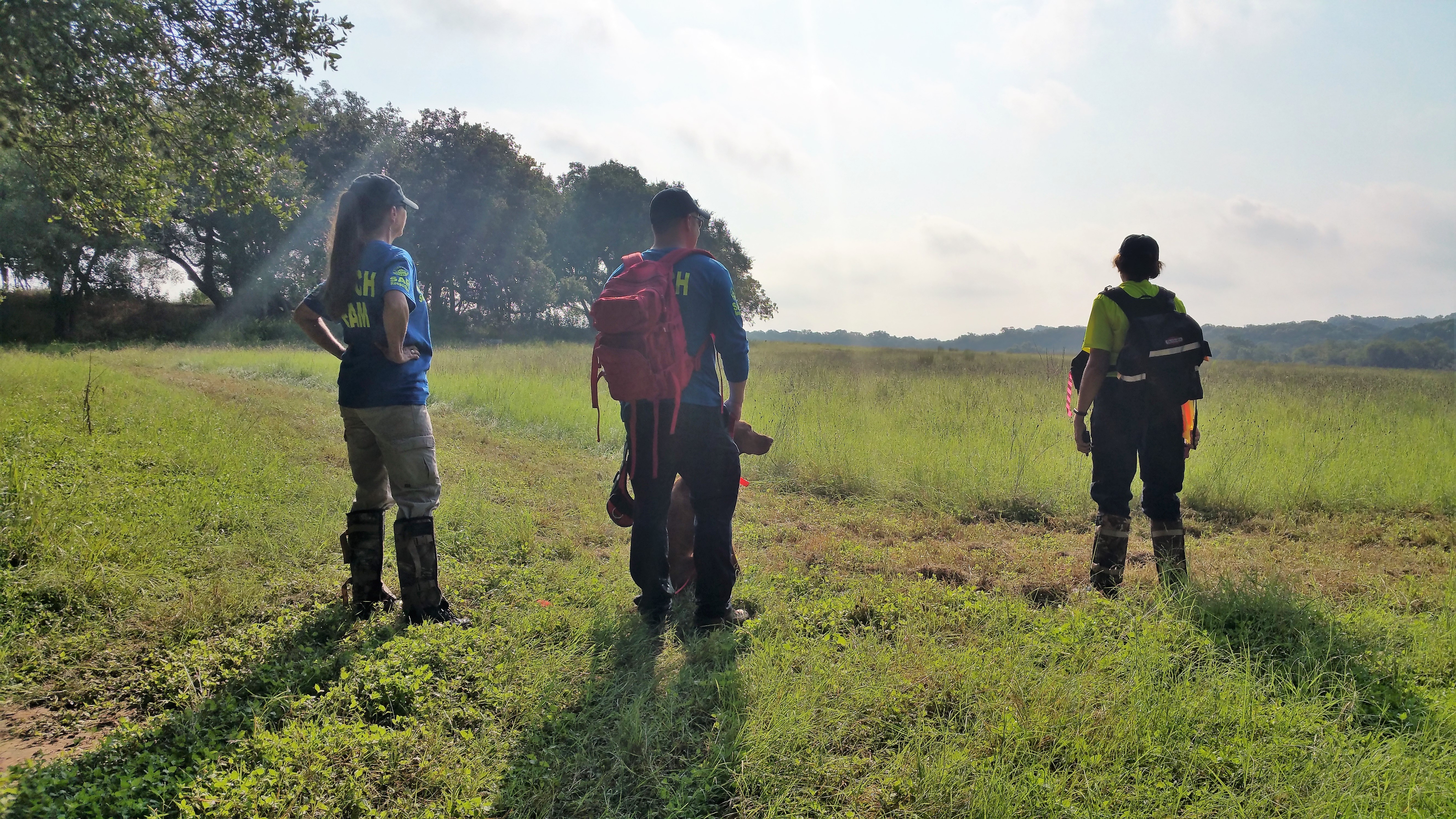 Wilderness Search Specialists
Our responders are all qualified as wilderness search specialists.  They receive extensive training in wilderness navigation, search tactics, communications, hazmat awareness, crime scene preservation and much more.  They are certified by the National Association for Search and Rescue.
 Human Remains Detection Canines (HR Dogs)
Our human remains detection canines are our most requested resource. They are trained to locate the odor of human decomposition. They are useful in a variety of circumstances. They can locate buried, scattered remains or even blood.  Our dogs have been utilized after disasters, floods, and fires to locate victims of accidents or victims of violent crimes.
 Air Scent Canines (Wilderness Area Search Dogs)
All humans constantly emit microscopic particles bearing human scent. By the millions, these particles become airborne and can be carried by the wind for considerable distances. Airborne scent is concentrated near its source, follows the air currents, and becomes more dilute the further it travels. An air scenting SAR dog is especially trained to locate the scent of any human in a specific area and close in on the source of the scent, and can do so from hundreds of meters away, in heavy bush or in the dark. SAR dogs are not restricted to following the missing person's track and can search long after the track is obliterated, zeroing in on where the person is now, regardless of how they got there.
  Water Recovery Canines
Our water search dogs can detect the scent given off by the victim of a drowning.  They are trained to work from a boat or from the shoreline.  This can greatly reduce the dive team's underwater search time.
 Trailing Canines
Trailing, is simply training a dog to follow a particular human's scent pattern wherever it might lie — on the ground or in the air — rather than following a specific set of tracks. If, for example, the dog is following a scent trail on a path along which the person is known to have walked and suddenly detects the same odor on the wind coming from a direction where the suspect currently is located, the dog is allowed to follow the air scent and deviate from the footpath, even if the person did not walk in this new direction.