Since June 2008, Alamo Area Search and Rescue has responded to 44 search missions in 18 counties in Texas. We have provided a variety of resources to over 30 different public safety agencies. All of our responders (human and canine) are certified by nationally recognized agencies prior to deployment. Training with AASAR doesn't end at certification. Our search specialists spend an average of 15 hours per week training. Our members are committed to constantly continuing their education to improve their skills.
Wilderness Search Specialists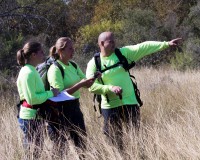 Our responders are all qualified as wilderness search specialists. They receive extensive training in wilderness navigation, search tactics, communications, hazmat awareness, crime scene preservation and much more. They are certified by the National Association for Search and Rescue.
Human Remains Detections Canines (HR Dogs)
Our human remains detection canines are our most requested resource. We have deployed our HR dog teams 66 times during our 44 missions. They are trained to locate the odor of human decomposition. They are useful in a variety of circumstances. They can locate buried or scattered remains or even blood. Our dogs have been utilized after disasters, floods and fires to locate victims of accidents or victims of violent crimes.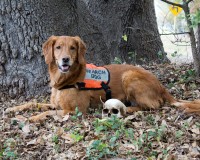 Air Scent Canines (Wilderness Area Search Dogs)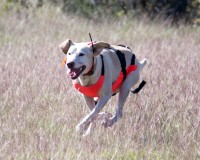 Air Scent dogs are trained to locate any live person in their search area. They work off leash and typically search around 40 acres or land in an hour. They don't need to have a scented item from the lost individual and they don't need to know where the lost person actually walked. They run through wilderness areas searching for the scent of any live person.
Our water search dogs can detect the scent given off by the victim of a drowning. They are trained to work from a boat or from the shoreline. This can greatly reduce the dive team's underwater search time.
Disaster dogs are used to search for people in many types of disasters like mudslides, rockslides, floods, earthquakes, hurricanes, tornados, explosions, building collapse, airplane crashes, train wrecks and many others. These dogs are trained to locate scent from any trapped person and bark at them until the dog's handler arrives.
Search Dogs 101
We can provide public safety agencies with a short briefing about search and rescue dogs and their capabilities. Each talk will include a short demonstration with the type of search dogs your agency is most interested in. We can tailor the briefing to best suit the needs of your agency. If you are interested in Search Dogs 101 please e-mail us at info@alamoareasar.org.
Lost…but Found, Safe and Sound
This 12-minute DVD was designed by the Association of National Park Rangers to show children, ages 4-12, what to do if they become lost in remote areas such as parks or forests. It follows the actions and thinking of 7-year-old Kelly, who sets out on a long-awaited hike on a beautiful day in the woods with her parents and brother. She runs ahead, gets separated from the rest of the family and becomes lost. After the DVD children can meet one of our search dogs! If your group is interested in Lost…but Found, Safe and Sound email us at info@alamoareasar.org